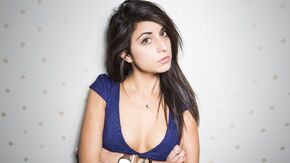 Violetta Milerman (from Sarasota, Florida) was a cast member on "The Real World: Skeletons." She was 23 years old at the time of her appearance on the show.
MTV Biography
Edit
Violetta's extremely outgoing and brash personality is either loved or hated, but it certainly demands the attention of any room.
Violetta and her mother immigrated to America over a decade ago to escape the harsh living conditions of their home country, Moldova. She currently lives in Sarasota, Florida where she's known for her hard-partying ways.
In high school, she admittedly was a hard-edged bully that got wrapped up with the wrong crowd. She since spent some time in Colorado where she feels she grew into a better person; even apologizing to some of the people she's hurt in her past.
Violetta resides with her mom and father, and continues to do what she does best: party and refers her party girl alter-ego persona as "Claryse!"
Violetta is currently going to college at State College of Florida, Manatee, Sarasota where she studies marketing and entertainment communications and anyone who knows her agrees, there's never a dull moment!
Her skeletons are former acquaintances, Jessica and Tia, who have been involved in cyber and verbal harassment with Violetta.
Violetta later reveals she is suffering from anorexia and bulimia due to past bullying about her weight.
After "The Real World"
Edit