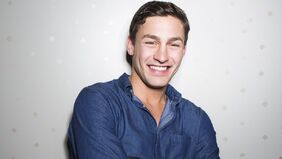 Tony Raines (from Folsom, Louisiana) was a cast member on "The Real World: Skeletons." He was 26 years old at the time of his appearance on the show.
MTV Biography
Edit
This handsome Southern charmer from the bayou really does want to one-day find love, but currently has a habit of not being able to keep faithful to one girl.
Like James Bond, girls want to be with him and guys want to be him. He spent his youth awkward, overweight and self-conscious. Now, girls flock to him!
Tony is no stranger to hard work, and was employed at a chemical plant but recently has been on leave due to knee surgery caused by a skirmish with a crazy ex.
Tony was raised by his single mother and his parents were never married. He doesn't have his father's last name because at the time of his birth, his parents were on the outs. Sadly, his father passed away due to a heart failure when Tony was 12 and the incident haunts him to this day.
Tony can't stand it when guys disrespect women and will not hesitate to save a damsel in distress.
His skeletons are his former girlfriends, Elizabeth and Alyssa.
After "The Real World"
Edit