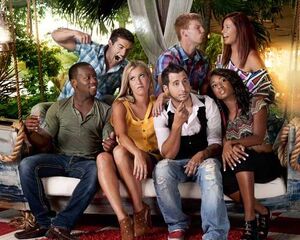 The Real World: St. Thomas is the 27th season "The Real World." It aired from June 27, 2012 to September 12, 2012.
It is the only season of the series to be filmed in the Caribbean and the second season set in the United States to be filmed outside of the contiguous United States.
The season featured a cast of seven people who lived in a house on Hassel Island. St. Thomas and Hassel Island in the U.S. Virgin Islands were first reported as the location for the 27th season in a February 2012 article on the website St. Thomas Blog.
The show's production started in March of 2012.
Assignment
Edit
The cast worked at Coral World Ocean Park for their season assignment.
Residence
Edit
The cast lived on Hassel Island, almost all of which is property of the Virgin Islands National Park, with a small area owned by the Virgin Islands Port Authority, and a few private residences.
The season residence was located on an isolated estate consisting of three houses totaling approximately 15,000 square feet (a quarter mile across the bay from Charlotte Amalie, St. Thomas, the capital and largest city of the US Virgin Islands).
The property was purchased by a local businessman in 2007 and extensively renovated in early 2010 by local architect Kevin Qualls.
Its sales listing prior to filming indicates that it houses three master suites with unobstructed views of Charlotte Amalie harbor, an open terrace that borders the living room 100 feet from the harbor and a swimming pool that includes a natural cascade from ancient rock outcroppings.
The property also includes two 1,200 square foot West Indian-inspired guest cottages North and South of the main building, a front lawn facing the harbor that can hold up to 225 guests and a new dock and helipad.
The cast had access to motor boats that would take them back and forth from Hassel Island to Charlotte Amalie.
Cast Members
Edit
List of Episodes
Edit
After Filming
Edit
"The Real World: St. Thomas Reunion" aired on September 12, 2012, following the season finale.
Maria Menounos hosted the special and it featured the entire cast as they discussed their time during filming and their lives since the show ended.