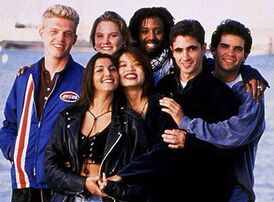 The Real World: San Francisco is the third season of "The Real World." It aired from June 30, 1994 to November 10, 1994.
It is the second season of the series to be filmed in the Pacific States region of the United States, specifically in California after "The Real World: Los Angeles."
The season featured a total of eight cast members over the course of the season, as one cast member was evicted and replaced. This is the first of two seasons to be filmed in San Francisco. Twenty years later, the show made a return in the 29th season "The Real World: Ex-Plosion."
Casting was completed by January of 1994, by which time the cast was informed that one of their housemates would be HIV-positive, though they did not learn which one it was until the day they moved into their Russian Hill house on February 12, 1994. The cast was filmed until they moved out on June 19, 1994.
The second season is noteworthy for the depiction of Pedro Zamora's struggle with AIDS, and his and other cast members' confrontations with David "Puck" Rainey, which led to Rainey's eviction. This conflict provided considered what "Entertainment Weekly" calls emotional high points for the season and are credited with making "The Real World" a hit, for which it was ranked #7 on Time magazine's list of "32 Epic Moments in Reality-TV History."
The season is also notable for featuring the first-ever same-sex commitment ceremony on TV, between Pedro and his partner, Sean Sasser.
Season Changes
Edit
Residence
Edit
Cast Members
Edit
List of Episodes
Edit
After Filming
Edit
Ad blocker interference detected!
Wikia is a free-to-use site that makes money from advertising. We have a modified experience for viewers using ad blockers

Wikia is not accessible if you've made further modifications. Remove the custom ad blocker rule(s) and the page will load as expected.