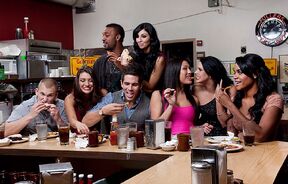 The Real World: Portland is the 28th season of "The Real World." It aired from March 27, 2013 to June 12, 2013.
It is the seventh season of the series to be filmed in the Pacific States region of the United States (specifically in Oregon) and is also the second season to be filmed in the Pacific Northwest.
The season featured a total of eight cast members over the course of the season, as one cast member was replaced after she voluntarily left the show. Portland, Oregon was first reported as the location for the twenty-eighth season in a June 19, 2012 article on the website Byronbeck.com.
MTV Head of Programming David Janollari confirmed that Portland would be the location for the 28th season on August 3, 2012 at the annual Television Critics Association Press Tour.
The production started in mid-2012. Olympic snowboarder Danny Kass makes a guest appearance in Episode 5.
Employment
Edit
Residence
Edit
Cast Members
Edit
List of Episodes
Edit
After Filming
Edit