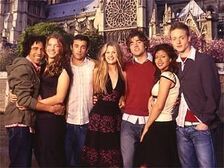 The Real World: Paris is the 13th season of "The Real World." It aired from June 3, 2003 to November 4, 2003.
It is the only season to be filmed in France. It was filmed over 120 days from January 19, 2003 to May 18, 2003.
The season featured seven people living in a four-story chateau and was the second of four seasons of The Real World to be filmed entirely outside of the United States after "The Real World: London" in 1995 and before "The Real World: Sydney" in 2007 & "The Real World: Cancun" in 2009.
Assignment
Edit
Residence
Edit
Cast Members
Edit
List of Episodes
Edit
After Filming
Edit
Ad blocker interference detected!
Wikia is a free-to-use site that makes money from advertising. We have a modified experience for viewers using ad blockers

Wikia is not accessible if you've made further modifications. Remove the custom ad blocker rule(s) and the page will load as expected.