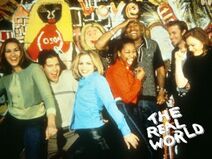 The Real World: Boston is the 6th season of "The Real World." It aired from July 15, 1997 to December 10, 1997.
It is the only season of the series to be filmed in the New England region of the United States, specifically in Massachusetts.
The season featured seven people who lived in a converted historic firehouse at 127 Mt. Vernon Street, Boston, Massachusetts, which is located right off of Charles Street and was also used in the television series "Spenser: For Hire."
Assignment
Edit
Residence
Edit
Cast Members
Edit
After Filming
Edit