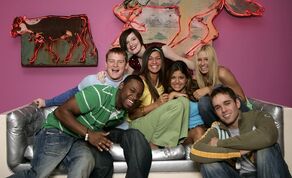 The Real World: Austin is the 16th season of "The Real World." It aired from June 21, 2005 to November 22, 2005.
It is the second season to be filmed in the West South Central States region of the United States, specifically in Texas.
The season featured seven people and was filmed in a converted warehouse.
Consisting of 24 episodes, the season premiered on June 21, 2005 and was watched by nearly 4 million viewers. The Real World: Austin won "Favorite Season" at the 2008 "The Real World Awards Bash."
Assignment
Edit
The Austin cast had to shoot, edit and direct their own documentary on the "South by Southwest" music festival.
Their "boss" was Paul Stekler, an award winning documentary filmmaker who taught at the University of Texas.
Residence
Edit
This season, the cast was housed in the west half of a 23,552-square-foot warehouse at 301 San Jacinto Boulevard at East 3rd Street in Austin, Texas (8,000 square feet (740 m2) of which were used for filming).
The interior used for the series was designed by Austin designer Joel Mozersky. The construction took three and a half weeks. 44 cameras were mounted on walls for filming.
After filming ended, the warehouse was completely gutted. The west half of it was turned into a Mexican restaurant called The Rio Grande. The east half was leased to a printing services company.
The house was converted into the Vince Young Steakhouse, which opened in November of 2010.
Cast Members
Edit
List of Episodes
Edit
After Filming
Edit
Six months after the cast left the Real World house, all seven of them appeared to discuss their experiences both during and since their time on the show "Tex, Hugs, & Rock 'n' Roll: The Real World Austin Reunion" which premiered on November 29, 2005, & was hosted by Susie Castillo.
The four female cast mates posed in lingerie for a cover feature in "Stuff" magazine
At the 2008 "The Real World Awards Bash," the Austin season won "Favorite Season," Danny and Melinda won "Favorite Love Story" and Johanna won "Favorite Dance-Off."