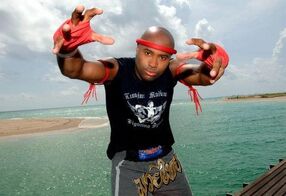 Syrus Yarbrough (from Santa Monica, California) was a cast member on "The Real World: Boston."
He was 25 years old at the time of his appearance on the show.
Biography
Edit
Syrus is of African-American descent and was named after the Egyptian god, Osiris. From 1992 to 1994, he played basketball at the University of Hawaii, Hilo.
During his time on the show, Syrus was known as a ladies' man who would bring women to the house to spend the night. He got himself in hot water when he dated the mother of one of the children from the after school program he worked at.
After "The Real World"
Edit
Syrus participated in the "Real World\Road Rules Challenge" series in four of the seasons: "Extreme Challenge," "Battle of the Sexes," "The Inferno", "The Gauntlet" and "The Ruins.
He was also featured in Eminem's video for "Without Me" in 2002 along with other Real World" alumni Julie Stoffer and David "Puck" Rainey.
Syrus also appeared in an international film called "Reservation" and owns his own nightclub promotion business in Miami Beach, Florida.