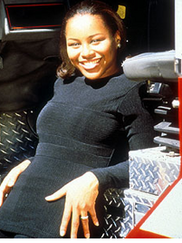 Kameelah Phillips (from San Diego, California) was a cast member on "The Real World: Boston."
She was 19 years old at time of her appearance on the show.
Biography
Edit
Kameelah attended Stanford University where she majored in science, planning to pursue a career in the medical field.
On the show, she was known for her feisty & bossy personality. She was also very direct when talking to guys and disapproved of Syrus bringing home women to the house late at night. Kameelah also got into an argument with Elka and threatened to "knock her out."
After "The Real World"
Edit
It appears as if Kameelah is reportedly working as a doctor in New York.