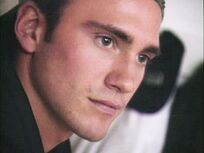 Eric Nies (from Ocean Township, New Jersey) was a cast member on "The Real World: New York." He was 20 years old at the time of his appearance on the show.
Biography
Edit
Eric is a print and TV model who's been working for in New York for a year, having just recently begun doing commercials..
His father (an NBA referee) wasn't always there for him growing up and as a result, he had a troubled youth.
Eric is on probation after being arrested approximately a year and a half ago for possession of steroids. He considers himself a very sensitive person and doesn't like it when people take advantage of him.
He is close to his sister, Kim and his mother.
Because he knows the importance of having strong role models, Eric volunteers to work with children in Episode 5.
Eric rooms with Kevin, with whom he discusses their different views on race in Episode 5.
In Episode 12, Heather and Eric have a discussion on her belief that he is insincere and expresses little of substance & his complaint that she is unfeeling and dismissive, eventually coming to an understanding as friends.
MTV Biography
Edit
Eric is a charismatic young model straight out of Jersey.
A guy with a troubled past, Eric deals regularly with trying to do the right thing and trying to make it in New York while still having a good time.
In addition to modeling, Eric (who has also done some commercial work) gets a lot of attention because of his strikingly good looks.
His volatile relationships with his girlfriend, sister, father and roommates are key stories this season.
After "The Real World"
Edit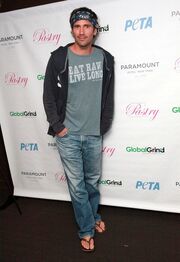 Eric became the host of the MTV dance show "The Grind" & appeared on the "Real World\Road Rules Challenge."
His acting credits include appearing in two episodes of the soap opera "Days of Our Lives," appearing in bit parts in the films "Above the Rim" & "The Brady Bunch Movie" and also appearing on the VH1 reality show "Confessions of a Teen Idol."
These days, Eric resides in Hawaii.