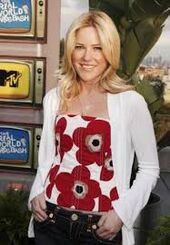 Beth Stolarczyk (born on February 14, 1969 in Garfield Heights, Ohio) was a cast member on "The Real World: Los Angeles."
She was 24 years old during her time on the show.
Biography
Edit
Beth is a graduate of Ohio University where she studied film, television and radio production. She is an avid fan of the entertainment industry and is in Los Angeles to pursue her career, to meet new people and challenge herself.
Beth works as a production assistant in a casting office and in craft services, but she hopes to be a producer, director and actor one day.
The death of Beth's father (with whom she was much closer to than her mother) was the hardest thing that she ever experienced and has still not visited his grave.
Beth's mother, Eugenia, a Polish-American radio host for WERE (1300 AM) works constantly (even doing shows on Christmas) and does not express her feelings often which is why Beth feels that they are not that close, even though she loves her mother very much. Beth discusses this when her mother visits the house in Episode 19.
She also has a sister even though her mother did not speak to her for a considerable time when Beth was in a relationship with an abusive boyfriend, who continues to call her demanding to see her.
According to MTV, Beth's friends describe her as a "drama queen" whose life is like a soap opera.
The rest of the cast affirms this label including Dominic, who characterizes her as "animated" and Aaron, who calls her a "psycho." She eventually grows close to Jon and Tami, forming a trio by the cast trip to Mexico.
Even though Tami thinks Beth is the cast member most ready to settle down, Beth says that she has not had sex in a long time, because finding a suitable man in Los Angeles is difficult.
However, Glen develops an intense animosity toward Beth by episodes 18 and 19, seeing her as selfish and "a mess," leading the two to attempt a dialogue in the latter episode.