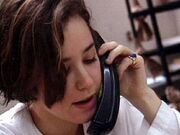 Becky Blasband (born Rebecca Blasband on July 8, 1967 in New Hope, Pennsylvania) was a cast member on "The Real World: New York." She was 24 years old at the time of her appearance on the show.
Biography
Edit
Becky is the daughter of a psychiatrist father and a German immigrant mother who runs an antique store in Philadelphia, to which her family moved when she was 13 years old.
She attended NYU Film School, and worked as an actress with playwright David Mamet's theater company, but eventually returned to her first love, music and has been working as a folk singer.
She now finds herself at a crossroads, as she knows she wants to do lots of things in her life but is unsure about which direction to take.
In Episode 8, begins seeing Bill Richmond, one of the show's directors.
MTV Biography
Edit
At 24, Becky is at a crossroads in her life.
She is somewhere between the youthful exuberance that made her decide to try her hand as a folk singer and the maturity that has her searching for a grown-up relationship.
She knows she wants to do lots of things in her life, but is unsure about which direction to take.
A moody wanderer, Becky is sure to stir up emotions in the house when she speaks her mind and offers up her opinions on life.
After "The Real World"
Edit
Warner/Chappell Music signed Becky to a publishing contract and financed a "surprisingly solid" extended-play CD called "The Rebecca Blasband."
In March of 1995, she moved to Denver, Colorado and has opened for artists such as Edwyn Collins and Squeeze.
These days, Becky resides in San Francisco, California where she is still a singer/songwriter & appears to keep a low profile.
Ad blocker interference detected!
Wikia is a free-to-use site that makes money from advertising. We have a modified experience for viewers using ad blockers

Wikia is not accessible if you've made further modifications. Remove the custom ad blocker rule(s) and the page will load as expected.